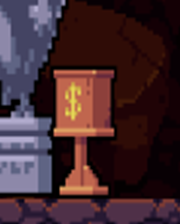 The donation box is an object with a dollar sign on it, posted outside any remix boss room. This donation box allows the player to empower the character that they play when fighting the respective remix boss. Money from the current run is required to increase the characters stats, the price starts off as 7500 gold and after every empower increases in cost. The donation box can be used up to a maximum of 9 times.
(7.500, 15.000, 30.000, 45.000, 67.500, 90.000, 120.000, 150.000, 187.500)

Prerequisites
Edit
For the donation box to appear outside the boss room door, the player will have had to defeat the boss within that game (i.e. in NG+ the legacy boss will need to be re-defeated for the box to reappear). Additionally the player will have had to, on a previous heir, collect the corresponding boss' obol and give it to charon to unlock their remix boss counterpart. 
Specific stat increases
Edit
Neo Khidr
Edit
Alexander the IV
Edit
Health: 204, 222, 240, 258, 276, ...
Ponce de Freon
Edit
Health: 495, 533, 578, ...
Astrodotus
Edit
Health: 250, 286, 322, ...
The Brohannes
Edit
Health: 700, 826, 952, 1078, ...
Strength: 150, 175, 200, 225, ...
Magic: 175, 205, 235, 265, ...